Shawns Auto Services are specialist car alarm fitters and suppliers, Thatcham being the main brand that we like to recommend above all others.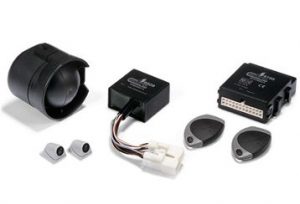 We do Thatcham Upgrades, new Thatcham installations, Thatcham Cat1 and Cat2, remote alarm systems using existing remote key fob and standard remote upgrade systems.
Many new and used cars are fitted with alarms, immobilisers and other devices to improve the vehicle's security. They both protect your possessions from opportunist thieves and your car, bike or van itself from being stolen.
The number of different car alarms and security features on offer is astounding, and the corresponding level of protection they give can be baffling for a new buyer.
Here at Shawns Auto Services we realise how hard irt is to understand, let alone know wht car alarm does what and which is best for your vehicle. We have had many years in the business and anti car theft is something that we understand and can advise on.
Thatcham Category 1 – electronic alarm and immobiliser
Systems that fall into this class are the cleverest and most complex on the market. A Thatcham Category 1 alarm will feature perimeter and ignition detection, and will incorporate movement or glass break and tilt sensors.
ll also be a siren powered by its own battery supply that will sound if your car gets broken into. while a minimum of two operating systems or one control unit used for normal operation must be isolated.
Thatcham Category 2 – electronic immobiliser
Alarms are not a requirement to be awarded Category 2 Thatcham security status. However, an immobiliser is.
Just like Category 1 systems, a Category 2 device has to isolate at least two circuits or systems, or one vehicle control unit that's required for the car to run properly. Again, it has to be passively set.